Get to know Dentist Dr. Julio E. Hernandez, who serves patients in Miami, Florida.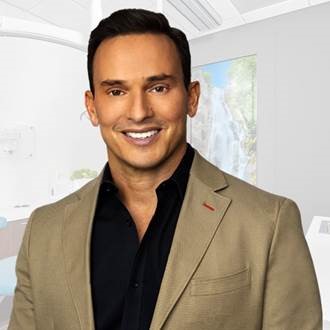 Celebrated as the grand architect behind some of South Florida's most brilliant smiles and beautiful faces, Dr. Hernandez has over two decades of experience in cosmetic dentistry, orthodontic and prosthodontic services & a decade of experience in facial aesthetics. He is the Founder of Biscayne Dental & Facial Aesthetics.
Dedicated to helping patients feel healthy, beautiful, and confident in their smiles, he and his team of experts provides a wide array of dental and facial aesthetic treatment options for all of their patients in the Miami, Florida area. They are proud to be one of the few practices in the area to offer a comprehensive suite of multidisciplinary services including dental examinations & cleanings, orthodontics, dental implants, skincare services, and a variety of other wellness treatments – all under one roof!
"Our mission as your trusted providers is to provide you with valuable, high-quality patient care in a warm and caring environment through remaining accessible as possible to our patients and maintaining the highest level of standard in modern medical techniques" as stated on their website.
Whether he is contouring and reshaping teeth or rejuvenating the face, Dr. Hernandez believes that beauty is achieved through a balance of art and science and that customization is a key ingredient to his success. Renowned for his work with Smile Lifts, a procedure in which a smile is specifically customized for a client using veneers and/or crowns, his expertise also extends to orthodontics, dental implants, laser teeth whitening, and facial aesthetics.
Earning his bachelor and Doctor of Medicine in Dentistry degrees from the University of Florida, he entered private practice with his father and expanded the practice to include four locations throughout South Florida: Hialeah Dental Group, Town & Country Family Dental, MIAMI Institute, and Biscayne Dental & Facial Aesthetics (current position). He is also the founder and developer of Dr. Julio's SoBe Detox, a 2-week or 3-week cleanse program that is safe and effective, restoring natural well-being and harnessing the power of healthier habits.
An esteemed member of the dental and facial aesthetic community, Dr. Hernandez serves as an active associate of the American Dental Association, the International Association of Orthodontics, the International Association of Facial Aesthetics, and the American Academy of Facial Esthetics. He is also a sustaining member of the American Academy of Cosmetic Dentistry, a Fellow of the International Congress of Oral Implantologists, and a past President of the New Dentist Alliance and Miami Beach Dental Society.
Recognized for his profound impact on the lives of others, he volunteers his time with local and international charities, bringing much needed dental health and education to children in need. He currently serves as the Chairman of Angels for Humanity whose mission is to inspire, empower, and support impoverished children in Haiti and around the world by providing them access to quality education and healthcare.
In October of 2020, he traveled to Haiti with Angels for Humanity to deliver masks, backpacks, and school supplies to over 1000 children at four different schools as part of the organizations Back to School Program. He also personally donated 400 disposable PPE to the only children's cancer hospital in Haiti.
Dentistry, also known as Dental and Oral Medicine, is a branch of medicine that consists of the study, diagnosis, prevention, and treatment of diseases, disorders, and conditions of the oral cavity. Dentists diagnose and treat dental issues and help patients develop better oral hygiene regimens. They clean teeth, correct bite issues, perform surgeries and extractions, and perform other duties to ensure that the teeth and mouth are healthy.
Regularly appearing in the press as a leading authority on cosmetic dentistry, Dr. Hernandez is a frequent guest on a variety of syndicated and international television programs.
In addition to his passion for dentistry and his charity, he sits on the medical advisory board of Veritas Farms, a full spectrum CBD oil company. He is also a partner and inventor of patent-pending products at SilkPro USA, which creates laser and light handheld consumer devices and professional medical devices.
Learn More about Dr. Julio E. Hernandez:
Through his findatopdoc profile, https://www.findatopdoc.com/doctor/82737927-Julio-Hernandez-Dentist or through Biscayne Dental & Facial Aesthetics, https://www.bwcmiami.com/about-us/meet-our-team/julio-hernandez-dmd/
About FindaTopDoc.com
FindaTopDoc is a digital health information company that helps connect patients with local physicians and specialists who accept your insurance. Our goal is to help guide you on your journey towards optimal health by providing you with the know how to make informed decisions for you and your family.