Dental Implants Miami, FL
Helping Correct Missing or Broken Teeth
At Biscayne Dental & Facial Aesthetics, we understand that, for many people, smiling is a problem because they feel they have unattractive teeth or loose dentures. Perhaps they need a tooth replacement and are very self-conscious about it.
A bigger problem, though, is that their hesitance to smile reflects a lack of self-confidence. When people are embarrassed by their teeth, they feel the need to cover them up, and their self-confidence takes a hit. Our Miami dentist has everything you need to ensure that your smile is one you can be proud of.
HALF PRICE DENTAL IMPLANTS FOR U.S. VETERANS
Contact us at (305) 224-1138 for more details and your FREE consultation with a Miami dental implant dentist!
Do any of the following relate to you:
You are embarrassed to smile because of a missing or ugly tooth that's noticeable when you laugh or smile
You have lost one or more teeth over time and it's getting harder to chew foods
Your teeth are breaking down and falling apart
You have dentures that slide around making it difficult to eat
You worry about your dentures falling out around other people
THE GOOD NEWS: We are here to help you. You don't have to worry or be embarrassed about your teeth. At Biscayne Dental & Facial Aesthetics, our Miami dental implant specialist has helped many people like you achieve beautiful, healthy smiles. Dental implants today are strong, beautiful and affordable. We welcome new patients and offer a free dental implant consultation.
New Dental Implant Patients
Whether you have a regular dentist already or you need a new dentist, we are here for you and accept all new patients. At Biscayne Dental & Facial Aesthetics, we offer a FREE initial consultation where you can ask Dr. Julio any of your questions regarding dental implants. We provide the latest in dental implants and want to help you replace your missing teeth comfortably and cost-effectively.
What are Dental Implants?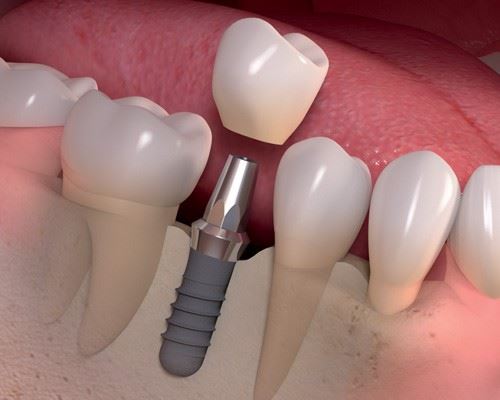 Dental implants can help restore a healthy, natural smile. When it comes to replacing one or more teeth, a dental implant is typically the preferred treatment. These implants function as a replacement for the roots of teeth. Dental implants can be used to secure crowns and bridge work as well as dentures.
Dental Implant Material
Simply put, a dental implant is composed of bio-compatible posts that replace the roots of a missing tooth. These implants are physically and biologically designed to attach to the jaw bone and become the foundation for a natural-looking replacement tooth.
Dental implants are also composed of titanium which makes them both lightweight and strong. One of the most important things about implants is that they are accepted by the body. They are completely safe and effective, so dental implants are the perfect way to replace missing teeth and improve one's smile. When properly cared for, dental implants are permanent.
How Much Do Dental Implants Cost?
For patients worried about the cost of dental implants, rest assured that at Biscayne Dental & Facial Aesthetics, we offer affordable dental implants. Our founder, Dr. Julio Hernandez has spent several months researching and negotiating with dental implant companies to lower the costs of the dental implant parts.
Additionally, we use state-of-the-art 3D computer technology to plan the entire implant procedure. This allows us to perform the implant procedure quickly and predictably. The material savings and time savings are passed down to you, the patient, to make the cost of dental implants affordable.
Although we provide affordable dental implants in Miami, some patients may require additional procedures. If you need any procedures in addition to placing the implants, this will increase the overall cost of the procedure.
Other factors affecting the cost of dental implants:
Extractions: if you need teeth removed before the implants are placed
The health of adjacent teeth: if there is gum disease or infections of adjacent teeth, these would have to be addressed prior to implant placement
Amount of bone available: there must be enough height and width of bone to place an implant. When there is not enough bone available, additional bone grafting would be required.
The proximity of sinus: when the sinus is too close to where the implants need to be placed, the sinus needs to be pushed away and bone grafted, this is called a sinus lift procedure
Number of implants: when several teeth are missing, multiple implants would need to be replaced. The number of implants would be determined during your consultation
At Biscayne Dental & Facial Aesthetics, we offer 0% interest-free financing for up to 12 months. Take advantage of these low payment plans to help restore your smile.
If you are interested in dental implants, contact us today to schedule a consultation with one of our dentists!
Dental Implant Procedure
The placement of dental implants involves two separate procedures. The first place the implants in the jaw bone. The implants will be placed beneath the surface of the gums. The implants then bond with the jaw bone and this process takes anywhere from three to six months.
After the implants have bonded with the jaw bone, there is a second procedure. At this stage, our doctor will uncover the implants and attach posts to them. These posts are visible above the gum line and will then anchor the new replacement teeth. Dr. Julio and his team will work with a premier dental lab in the US to customize a porcelain crown that will then be cemented to the posts, so they cannot be seen.
The entire process takes from six to eight months.
Different Types of Dental Implants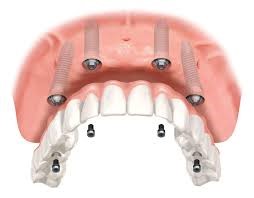 Implant dentures, or implant supported dentures, are much more secure than traditional dentures which attach to the gums and bone and tend to move or slip around easily. To support a denture, multiple implants are placed at the same time. After some initial healing time, a new denture is made that attaches to the implants.
The new denture can be made one of two ways:
Removable: denture snaps on to implants but can be removed for regular cleanings
Fixed-Removable: denture is permanently fixed to the implants where the patient does not have to remove it but, if necessary, can be removed by Dr. Julio Hernandez and his team.
Implant dentures have several advantages:
More stable
More comfortable
Easier to eat with
Easier to speak with
Feel more secure
Don't have clicking sounds
Benefits of Dental Implants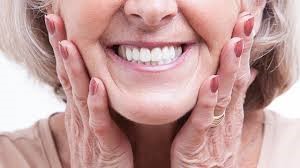 With dental implants, one may feel a new lease on life. Implants can help people smile again! They look and feel real, and function just the same as natural teeth.
People who are missing teeth can receive implants and go back to eating regularly. Those who felt their smiles were unattractive can start smiling for the camera!
The advantages of having a dental implant put in place include the fact that they can replace teeth without affecting any adjacent teeth and they can replace a missing tooth while helping maintain the bone levels of the mouth. In many cases, the procedure can be paid for with a payment plan.
If you are interested in dental implants, call us today to schedule a consultation with one of our dentists and we can help determine if this is the best option for you!
How Long Do Dental Implants Last?
Dental implants have been around for many years. There have been many long-term studies showing the success rate of implants over time. Factors that affected the long-term stability of implants have been addressed and today's research gives us the information necessary to place implants very predictably. Implants today can last a lifetime. There are few procedures in medicine today that can confidently say can last a lifetime. If you divide the cost of replacing a missing tooth or teeth with dental implants over your lifetime, you will realize that the costs of these procedures are very low. A facelift can cost several thousands of dollars and will likely need to be repeated. Dental implants could cost a fraction of that and last a lifetime.
Caring for Your Dental Implants
Dental implants require routine maintenance just like your natural teeth. Whether you have one implant or several supporting a denture, your home care and regular maintenance visits to the dentist are critical to ensuring the long-term stability of your implants.
Here are our top seven dental implant care instructions:
No Smoking, No Straws: Smoking should be avoided because it removes the oxygen in the area and lowers the body's ability to heal the site. Straws can't be used for three days. Any type of suction immediately following the treatment can loosen the blood clot and/or sutures.
Gentle Rinsing: Using the prescribed chlorhexidine rinse is recommended for a limited time. Avoid alcohol-containing mouthwashes during the healing period
Ultra-Soft Brush: Very gentle brushing of the implant area can begin 24 hours after surgery using a very soft brush and gentle pressure.
Discomfort: Some discomfort is expected after dental implant procedures. Please follow the recommended dosage instructions for the prescribed medications. Contact our office if pain or discomfort is persistent.
Swelling: Some swelling may occur lasting 3-5 days. Use medications as prescribed and cold compresses to reduce inflammation. Contact us if swelling persists after five days.
Diet: In the first 24 hours, your diet should be limited to liquid or soft foods. Avoid chewing on the surgical site for the first few days.
Implant Follow up: Patients should see our doctor one week, one month, and three months after treatment until the dental implants become stable. Please contact our office at any time during the healing phase if symptoms arise.
Committed to Providing Patients with the Utmost in Skilled Care
At Biscayne Dental & Facial Aesthetics, our Miami dental implant center has two of the best implant dentists around.
Dr. Julio Hernandez, a graduate of the University of Florida, has over 20 years of experience and is a fellow in the International Congress of Oral Implantologists. His passion for helping people achieve beautiful smiles is evident from the rave reviews he gets from patients he has helped.
Dr. Lorena Corzo completed her dental degree in Caracas Venezuela at the Universidad Central de Venezuela. She later got accepted at the University of Florida Advance Education for the General Dentist program where she obtained her Florida Dental License. She completed her residency on Periodontology and a Master of Science degree in Periodontology at Boston University. She uses state of the art techniques and technology to improve her patient's oral health and restore their smiles.
If you are looking for the best dental implant specialist near you, contact our Miami dental center.
We offer dental implants in Miami, have convenient hours, and offer FREE dental implant consultations. Ask us about our 0% interest-free financing. Call us at (305) 224-1138 today to get started with a dental implant specialist near you!
Meet The Team
Biscayne Dental & Facial Aesthetics
Julio Hernandez, DMD

Founder, Dentist, Facial Aesthetic Expert

Celebrated as the grand architect behind some of South Florida's most brilliant smiles and beautiful faces, Dr. Julio E. ...

Cesar Hernandez, DDS

Dentist

Dr. Cesar Hernandez comes from a long line of dentists. His grandfather, father, uncle, sister, and wife are all dentists. ...

Jose Porras, DDS

Periodontal Surgery & Implantology, Dentist

Dr. Rafael Porras was born and raised in San Jose Costa Rica. He is a graduate from the Dental School at the University of ...

Abeer Altarsha, RDH

Dental Hygienist

Abeer has been working in the dental industry for about 19 years. Born and raised in Damascus, Syria where she also attended ...
State of the Art Technology
Focused on Helping You Receive a Better Experience
We utilize low-radiation dental x-rays, oral cancer screenings, and a 3-D digital impression system. These systems allow us to provide you with a better diagnosis, and more insightful solutions all while keeping you comfortable. No expense is spared in making sure we provide you with the best possible level of dental care.
Professional & Charitable Affiliations
The American Dental Association

The International Association of Orthodontics

American Academy of Cosmetic Dentistry

International Congress of Oral Implantologists

Miami Beach Dental Society

Angels for Humanity

American Academy of Facial Aesthetics

Internal Academy of Facial Aesthetics
Established & Effective
Procedures to Help You Feel Better
Proven Track Record

More than 20 years of professional experience

Trusted & Effective

Highly decorated and esteemed professionals

Recognized By The Press

As a leading authority in cosmetic dentistry

Comprehensive Services

Comprehensive dental services are offered at our office