Tooth-Colored Fillings in Miami
A Flawless Smile with Fillings that Look Completely Natural
Interested in replacing old silver teeth fillings for natural-colored fillings in Miami? Are you conscious of your laughter and holding back? At Biscayne Dental & Facial Aesthetics, conveniently located on Biscayne Blvd near Downtown Miami and Miami Beach, we do the best dental fillings in Miami! Dr. Julio Hernandez places white fillings on teeth due to decay or fracture.
Call (305) 224-1138 today for a free consultation with our dental implant specialists today!
Why Should I Choose Tooth-Colored Fillings?
There are several advantages to choosing tooth-colored fillings:
Tooth-colored fillings are highly aesthetic
Composite fillings help hold the tooth together better
The cost to replace a silver filling with a tooth-colored filling is cheap
In recent years, filling materials have been substantially improved making them safer, stronger and more aesthetic. Although silver amalgam (silver filling) was the dominant choice years ago, today we have several other preferred options for tooth-colored restorations including white composite filling materials and cementable resins and porcelains that match the patient's tooth color. Look at our silver filling replacement, before and after photos below: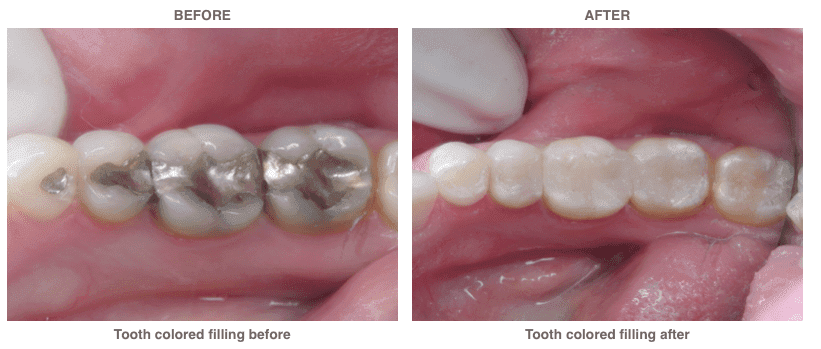 It is important to bear in mind that placement of these types of fillings will require anesthesia and may cause tooth sensitivity initially.
How is a Filling Replaced?
The procedure to replace a silver filling requires first placing anesthetic in the area. The old silver filling is removed under high volume suction with the patient protected so as not to inhale the dangerous mercury that is released. Our office in Miami uses every precaution to protect our patients during the removal of the old silver fillings. This makes the procedure safe for the patient and the doctor. Once the tooth is thoroughly cleaned, it is prepared using a special protocol specifically developed by Dr. Julio Hernandez to make the restoration strong, durable and long-lasting. Our unique protocol prevents patients from experiencing excessive sensitivity after the procedure.
Decayed teeth require fillings as well to restore their strength and health. First, the decayed portion of the tooth is removed from the sound tooth structure. The resin filling is then shaped to match the look and feel of natural teeth. Today, many modern materials can be used to mimic the color and texture of natural teeth.
Porcelain Tooth Fillings
Dental inlays and onlays are some of the strongest and most lifelike dental restorations available. The teeth are prepared in much the same way we would for a standard filling. An impression is sent to a dental lab and the final porcelain restoration is delivered within 2 weeks.

Advantages of porcelain fillings include:
Much stronger than resin fillings
Decreased sensitivity
Lasts longer than resin fillings
Disadvantages of choosing porcelain fillings include:
Requires 2 appointments
Requires anesthesia
Higher initial cost
Call (305) 224-1138 today for information on replacing silver fillings with tooth-colored fillings! Our Miami dentist is dedicated to helping you brighten your smile.
Meet The Team
Biscayne Dental & Facial Aesthetics
Julio Hernandez, DMD

Founder, Dentist, Facial Aesthetic Expert

Celebrated as the grand architect behind some of South Florida's most brilliant smiles and beautiful faces, Dr. Julio E. ...

Cesar Hernandez, DDS

Dentist

Dr. Cesar Hernandez comes from a long line of dentists. His grandfather, father, uncle, sister, and wife are all dentists. ...

Jose Porras, DDS

Periodontal Surgery & Implantology, Dentist

Dr. Rafael Porras was born and raised in San Jose Costa Rica. He is a graduate from the Dental School at the University of ...

Abeer Altarsha, RDH

Dental Hygienist

Abeer has been working in the dental industry for about 19 years. Born and raised in Damascus, Syria where she also attended ...
State of the Art Technology
Focused on Helping You Receive a Better Experience
We utilize low-radiation dental x-rays, oral cancer screenings, and a 3-D digital impression system. These systems allow us to provide you with a better diagnosis, and more insightful solutions all while keeping you comfortable. No expense is spared in making sure we provide you with the best possible level of dental care.
Professional & Charitable Affiliations
The American Dental Association

The International Association of Orthodontics

American Academy of Cosmetic Dentistry

International Congress of Oral Implantologists

Miami Beach Dental Society

Angels for Humanity

American Academy of Facial Aesthetics

Internal Academy of Facial Aesthetics
Established & Effective
Procedures to Help You Feel Better
Proven Track Record

More than 20 years of professional experience

Trusted & Effective

Highly decorated and esteemed professionals

Recognized By The Press

As a leading authority in cosmetic dentistry

Comprehensive Services

Comprehensive dental services are offered at our office