Miami Clear + Brilliant Laser Treatment
Non-Ablative Laser Rejuvenation
Whether you are looking to fight the signs of aging or you are being proactive by starting early, the Clear + Brilliant treatment is the answer. As we age, we lose collagen and elastin making our skin look dull and lackluster. Developed by the makers of the Fraxel laser, the Clear + Brilliant uses the same technology with less downtime to help stimulate brighter, younger-looking skin. The Clear + Brilliant is nicknamed the "mini-Fraxel" and is safe for both men and women of all skin types with little to no downtime.
For advanced laser rejuvenation treatments in Miami, contact us today!
The Clear + Brilliant Procedure
The Clear+ Brilliant procedure is quick and easy. The appointment begins with digital pictures and a free consultation to determine the areas of concern. Following the consultation, a topical numbing cream is applied for 20 – 30 minutes. After the skin is thoroughly cleansed and prepared, this gentle laser is used over the entire treatment area. The laser tip has a small roller that glides easily over the skin. Most patients describe the feeling as a prickling sensation that is completely comfortable.
The Clear+ Brilliant laser is considered a non-ablative laser because it delivers heat into the upper layers of the skin creating thousands of tiny columns called microthermal treatment zones. This, in turn, stimulates your body's own healing mechanism. The penetrating heat then helps tighten the skin and stimulate collagen remodeling refreshing your skin from the inside out.
Benefits of clear & brilliant laser treatment include:
Safe and gentle laser
Non-surgical and non-invasive
Can be used on all skin tones
Little to no downtime
Improves skin tone and texture
Gives skin a radiant, youthful glow
Reduces the appearance of pores
Can be combined with other treatments
Best Laser Facial for Face, Neck, Chest, & Hands
The Clear+ Brilliant gentle laser is the perfect treatment to treat not just the face but the very delicate skin of the neck, chest, and back of hands. Unlike other lasers that are too damaging to some delicate areas, the Clear + Brilliant has a limited and precise depth of penetration making it safe to treat areas of thinner skin. It is also safe for skin of color.
Lasers for Darker-colored Skin
Dark skin is harder to treat with lasers because of problems due to de-pigmentation and excessive damage to the skin. Clear+ Brilliant is a gentle laser that offers a milder approach to skin rejuvenation. The safety of this FDA-approved device is backed by thousands of studies. The results are immediate and improvement to the texture and tone of the skin can last for months depending on the age and condition of your skin.
Versatile Laser Skin Therapy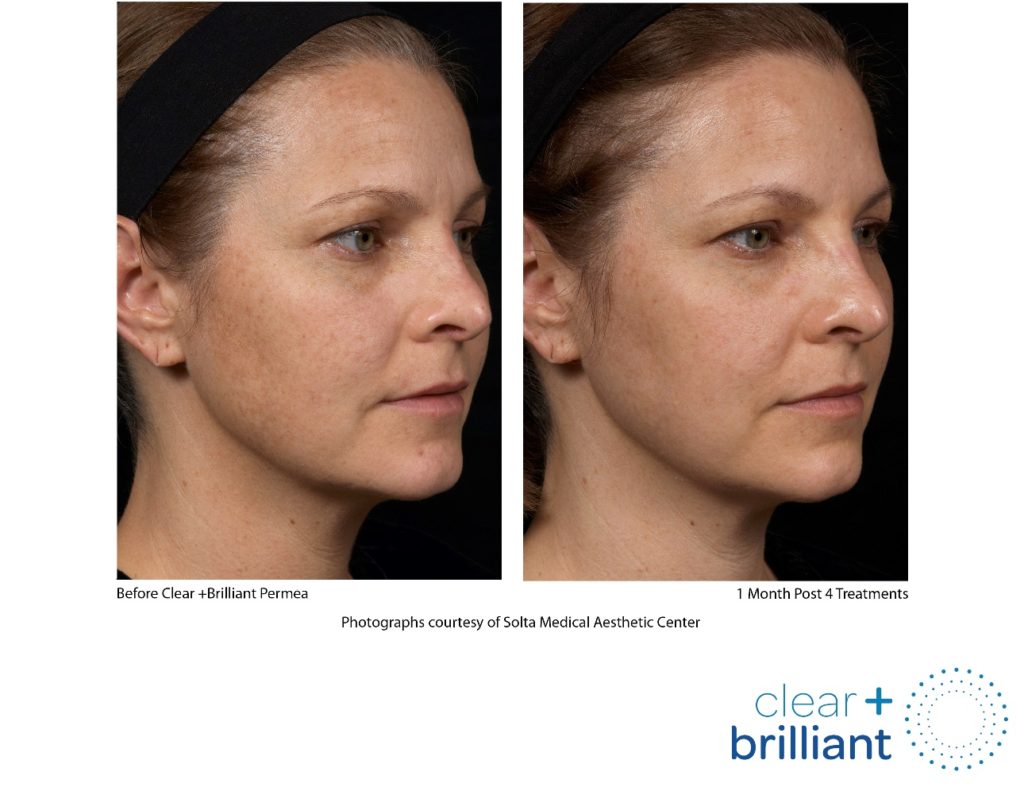 The Clear+ Brilliant gentle laser is versatile because it comes with two different handpieces, the Original and the Perméa. Although they use similar technology to maintain younger-looking skin, the Perméa makes the skin more permeable and is used in combination with skin lighteners, skin boosters, growth factors and other methods to allow these products to penetrate the skin reaching the deeper layers for better results.
Original Handpiece:
Prevents early signs of aging
Maintains younger-looking skin
Improves skin texture & elasticity
Minimizes pore size
Provides long-term improvement through collagen remodeling
Perméa Handpiece:
Improves skin tone and radiance
Maintains younger-looking skin
Creates visibly illuminated skin
Evens skin tone
Enhances skin permeability allowing products to penetrate
What to Expect After Laser Facial Treatment
Immediately After: You will experience some slight to moderate redness that can last up to 24 hours. Patients may also feel heat from the treated area like a sunburn. This typically dissipates within a couple hours.
Days following treatment: The skin will feel rough like sandpaper for a few days. It is important that you do not exfoliate during this time and allow the dead skin to slough off naturally. Some light to moderate peeling may occur on days 3 and 4. This is the only visible sign to others beyond the first day that anything was done. By days 6 or 7 the new skin will be revealed giving you a beautiful, natural glow.
Cost of Laser Resurfacing with Clear + Brilliant
How much would you pay for younger-looking skin? Did you know Fraxel treatments can cost from $900 – $1400? The Clear + Brilliant laser treatment will not put such a dent in your pocketbook. This laser resurfacing cost can vary between patients depending on the number of treatments they need. At Biscayne Dental & Facial Aesthetics in Miami, we offer a FREE consultation to understand your concerns and to develop a treatment strategy. When multiple treatments are recommended, we offer treatment packages ranging from 4 – 6 treatments. We also combine the Clear + Brilliant laser with other treatments like radiofrequency skin tightening, dermalpen or plasma to yield more dramatic results and to better target problem areas.
The cost of these types of customized packages are given during your free consultation:
Clear + Brilliant Full Face= $375
Clear + Brilliant Chest or Neck Add On = $100 (when done at the same time as Full Face)
Clear + Brilliant Packages- $350 each for package of 3
Clear + Brilliant Combo treatment- prices vary (discounts available)
A 30-minute Clear + Brilliant session can leave your skin feeling smoother, younger and give you that radiant "South Beach Glow" that comes from healthy, youthful skin. Don't get just one treatment! Routine treatments deliver lasting results that can keep you looking younger for years to come. Clear + Brilliant is simple yet highly effective. An easy treatment to add to your routine, much like the way you plan for a facial or trip to the hair salon.
At Biscayne Dental & Facial Aesthetics, our Miami laser resurfacing expert is dedicated to helping patients feel youthful and rejuvenated. Call us today at (305) 224-1138 to get started!
Meet The Team
Biscayne Dental & Facial Aesthetics
Julio Hernandez, DMD

Founder, Dentist, Facial Aesthetic Expert

Celebrated as the grand architect behind some of South Florida's most brilliant smiles and beautiful faces, Dr. Julio E. ...

Cesar Hernandez, DDS

Dentist

Dr. Cesar Hernandez comes from a long line of dentists. His grandfather, father, uncle, sister, and wife are all dentists. ...

Jose Porras, DDS

Periodontal Surgery & Implantology, Dentist

Dr. Rafael Porras was born and raised in San Jose Costa Rica. He is a graduate from the Dental School at the University of ...

Abeer Altarsha, RDH

Dental Hygienist

Abeer has been working in the dental industry for about 19 years. Born and raised in Damascus, Syria where she also attended ...
Innovative Skin Care Treatments
Focused on Helping You Receive a Better Experience
Focusing on treatments with little to no downtime, we offer the latest skin care treatments to make you look and feel your best. Safety and comfort is our priority, that is why we stay up to date with the most innovative skin care treatments available.
Professional & Charitable Affiliations
The American Dental Association

The International Association of Orthodontics

American Academy of Cosmetic Dentistry

International Congress of Oral Implantologists

Miami Beach Dental Society

Angels for Humanity

American Academy of Facial Aesthetics

Internal Academy of Facial Aesthetics
Established & Effective
Procedures to Help You Feel Better
Proven Track Record

More than 20 years of professional experience

Trusted & Effective

Highly decorated and esteemed professionals

Recognized By The Press

As a leading authority in cosmetic dentistry

Comprehensive Services

Comprehensive dental services are offered at our office