Thermage in Miami
Anti-Aging Skin Tightening Treatments
Are you looking for a safe, simple and virtually painless way to tighten your skin? Thermage is your answer to help with face tightening and tightening skin under the chin. Don't concern yourself with the cost of skin tightening in Miami. Thermage is an affordable, non-surgical, yearly, skin tightening procedure for the eyes, face, neck, and body. Dr. Julio Hernandez and his professionally trained skin care staff at Biscayne Dental & Facial Aesthetics will have you looking younger in no time and advise you on Thermage aftercare.
What is Thermage?
Thermage is a safe, non-invasive, radiofrequency (RF) cosmetic procedure that's clinically proven to help smooth and improve skin for an overall younger looking appearance.
Thermage treatment delivers natural looking results with little to no downtime on all skin types almost anywhere on the face and body, all in a single procedure.
This non-surgical procedure requires no anesthesia or injections and is very comfortable.
With the incorporation of a new vibrating handpiece and a thermal cooling tip, the new and improved Thermage skin tightening treatment is more comfortable than ever.
How Does Thermage Skin Tightening Work?
Thermage utilizes state-of-the-art Comfort Pulse Technology (CPT) to deliver heat through the surface of the skin to the deeper tissues safely and evenly without damaging the surface skin. The Thermage CPT system along with the new vibrating handpiece comfortably provides more uniform heating to the underlying tissues to help stimulate collagen growth. Over time, the newly remodeled collagen acts to further tighten and contour the skin. Results can be seen immediately but further improvement can be seen in patients up to one year following treatment. Additionally, a skin tightening cream can be used after the procedure on the face, neck or body to enhance the results.
A typical Thermage skin tightening treatment can take between one to two hours. Because there is little to no downtime and no special preparation required, Thermage makes for a perfect lunchtime treatment allowing you to return to work immediately.
For skin tightening in Miami, call us at (305) 224-1138 to schedule a consultation!
Smoothing the Skin Around the Eyes & Eyelids
Hooding, fine lines, wrinkles and crow's feet can make us look worn-down. Thermage treats the upper and lower eyelids and crow's feet to help you look more youthful and rested. Thermage was the first FDA-cleared treatment for non-invasive eyelid treatment. If you fear eyelid surgery or just want to hold off on eyelid surgery for now, Thermage can help improve the position of the skin around the eyes making your eyes look more open and less tired.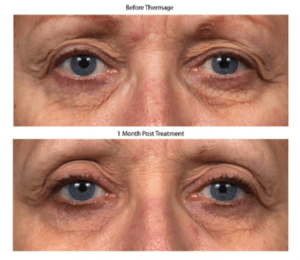 Putting Your Best Face Forward
As we age, phrases like "turkey neck", loose jowls, sagging skin and "what happened to my jawline?" can begin to crop up. Thermage smooths lines and wrinkles and remodels collagen for the overall health of the skin. Although we have many treatments available to improve the appearance of our face, few treatments exist that tighten neck skin. Thermage is the perfect treatment to improve sagging skin of the face and neck. Thermage is not a laser but rather a radiofrequency device that delivers heat to the deeper layers of the skin. Thermage is the best skin tightening treatment available to tighten the skin under the chin. It is an ideal skin tightening treatment after weight loss too. If you are planning to lose weight, be sure to schedule a Thermage skin tightening treatment to provide face tightening as the pounds come off.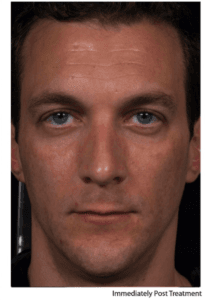 Thermage for the Body
Aging doesn't just affect the skin on our faces, our bodies see the effects too, with crepey, sagging skin and unwanted bulges and dimples. Thermage is a non-invasive way to smooth the skin on our bodies and temporarily improve the appearance of cellulite. Thermage skin tightening will help tone, smooth, and contour the skin safely on most body parts including the tummy, arms, hands, thighs, knees, and buttocks. This treatment is ideal for skin tightening after weight loss or pregnancy too. This once-a-year treatment requires no surgery or injections to deliver dramatically improved results.
Benefits of Thermage Skin Tightening
Thermage is for when you want to tackle the effects of aging on your skin. You want to look younger and you want real results – but don't want the overly drastic change or extended downtime that comes with surgery.
Thermage fits into any lifestyle or beauty regimen, with benefits that include:
Minimal downtime
One treatment once-a-year
Non-surgical, non-invasive and safe
Treats many areas of the body
Dramatic improvement over skin tightening cream
The Cost of Skin Tightening with Thermage
If you concerned about undergoing a facelift or you just want to hold off on having one for as long as possible, Thermage may be the answer. The average cost of a facelift can be over $7000. At Biscayne Dental & Facial Aesthetics, you can get the Thermage Skin Tightening treatment for less than half that price. Prices vary according to the treatment area being done. Be sure to schedule a free consultation to see if Thermage skin tightening is right for you. This once-a-year treatment will give you immediate and long-lasting results and may even prevent you from ever needing a facelift at all. We also offer 0% interest-free financing for all cosmetic procedures. Thermage skin tightening in Miami is your fast, affordable and non-invasive solution to tighten sagging skin!
Thermage Pricing:
Face + Neck = $3500 – $250 discount = $3250
Lower Face + Neck = $3000 – $250 discount = $2750
Upper and Lower Eyelids= $1750 – $250 discount = $1500
Miami Non-Surgical Facelift
Thermage skin tightening can provide the effect of a non-surgical facelift. However, the best skin tightening treatment incorporates a combination of therapies including Thermage, skin tightening creams, Botox, fillers, and threads. Dr. Julio Hernandez is the best facial aesthetic expert with over 20 years' experience in facial aesthetics.