The Opinion of an Experienced Miami Orthodontic Provider on Teledentistry
During the 25 years Biscayne Dental & Facial Aesthetics' lead orthodontic provider Dr. Julio E. Hernandez, DMD has been in practice, he has seen a lot of orthodontic fads come and go. "Teledentistry" is one of them. Teledentistry, like telemedicine, involves consultations with a dentist or orthodontist via photos and video conferencing so patients never have to step foot in an orthodontist's office. Some patients choose to go the teledentistry route because they think it is a more convenient option. However, what they may not realize is they are sacrificing the high-quality treatment and attentive care that is only achievable through real-life interaction with an orthodontist.
Dr. Hernandez recommends Invisalign as a teeth-straightening option suitable for many teens and adults. This discreet teeth-straightening method helps patients attain a beautiful smile. Invisalign can treat complex cases involving overbites, underbites, crossbites, and open bites. You will meet our orthodontic provider for regular appointments over the course of 3 to 18 months to check on the progression of your shifting teeth, which can be valuable if you hit any roadblocks.
Compare Invisalign at BDFA vs. SmileDirectClub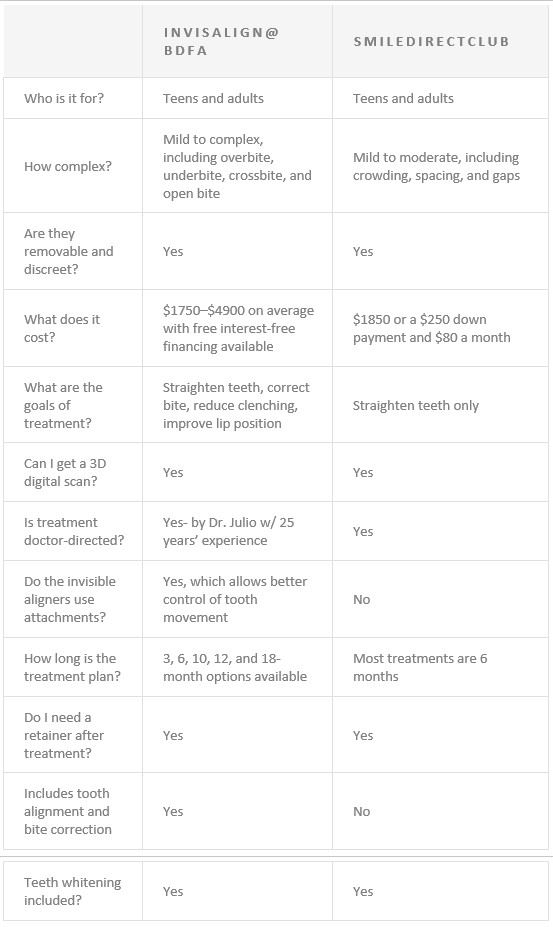 What Is Teledentistry?
So, why are more and more patients turning to teledentistry services like SmileDirectClub over Invisalign treatment?
SmileDirectClub is the main player in the teledentistry arena. To achieve straight teeth, patients sign up with the service, submit a down payment, and pay monthly installments. To get the process started, patients send selfie photos to SmileDirectClub showing their smile and teeth from different angles. Then, SmileDirectClub sends the patient materials to make their own dental molds/impressions from home. Once an orthodontist determines a treatment plan for the patient, SmileDiretClub sends the patient a full series of teeth-straightening aligner trays in the mail. The patient will periodically check in with an orthodontist via additional photos and videos, but never in real life. While this may seem like a dream come true for the adult who wants straight teeth but doesn't want to pencil in the orthodontist in their calendar, it has definite drawbacks.
What Are the Downsides of SmileDirectClub?
One of the biggest negatives of SmileDirectClub aligners is that they only straighten teeth; these aligners cannot correct bite problems, reduce teeth clenching, or improve lip position. By contrast, Invisalign can handle much more complex bite issues, as well as correct overcrowding or overly spaced teeth. SmileDirectClub can only handle mild to moderately complex orthodontic issues. In addition, SmileDirectClub's aligners do not include the same attachments, or "buttons," as Invisalign's, which allow for better, more precise teeth movement.
Why Choose Invisalign?
Invisalign is the teeth-straightening method of choice for teens and adults who want a discreet way to attain a beautiful smile with the personalized attention only a certified Invisalign dentist can provide in a friendly, relaxed setting. Besides only correcting crooked, gapped, or crowded teeth, Invisalign also fixes abnormal bite problems, which if left unfixed, can lead to problems down the road. Oral health issues attributed to abnormal bites include cavities, tooth loss, gum infections, tooth enamel erosion, and difficulty speaking and/or eating. Only an in-person visit to your local orthodontist can determine whether you have a misaligned bite, so it is in your best interest to stick to the traditional teeth-straightening route and make an appointment at an orthodontist's office to get started creating your new, beautiful smile.
Schedule Your Consultation with Our Miami Orthodontic Provider Today!
While modern technology makes it possible to straighten your teeth without having to visit an orthodontist's office, it's worth the time and effort to invest in Invisalign treatment with a trained orthodontic provider. Our Invisalign Provider, Dr. Julio E. Hernandez, looks forward to meeting you and helping you on your journey to a beautiful smile.
Call us today at (305) 224-1138 to schedule a consultation or use our online contact form to book an appointment. We look forward to helping you get the smile of your dreams!