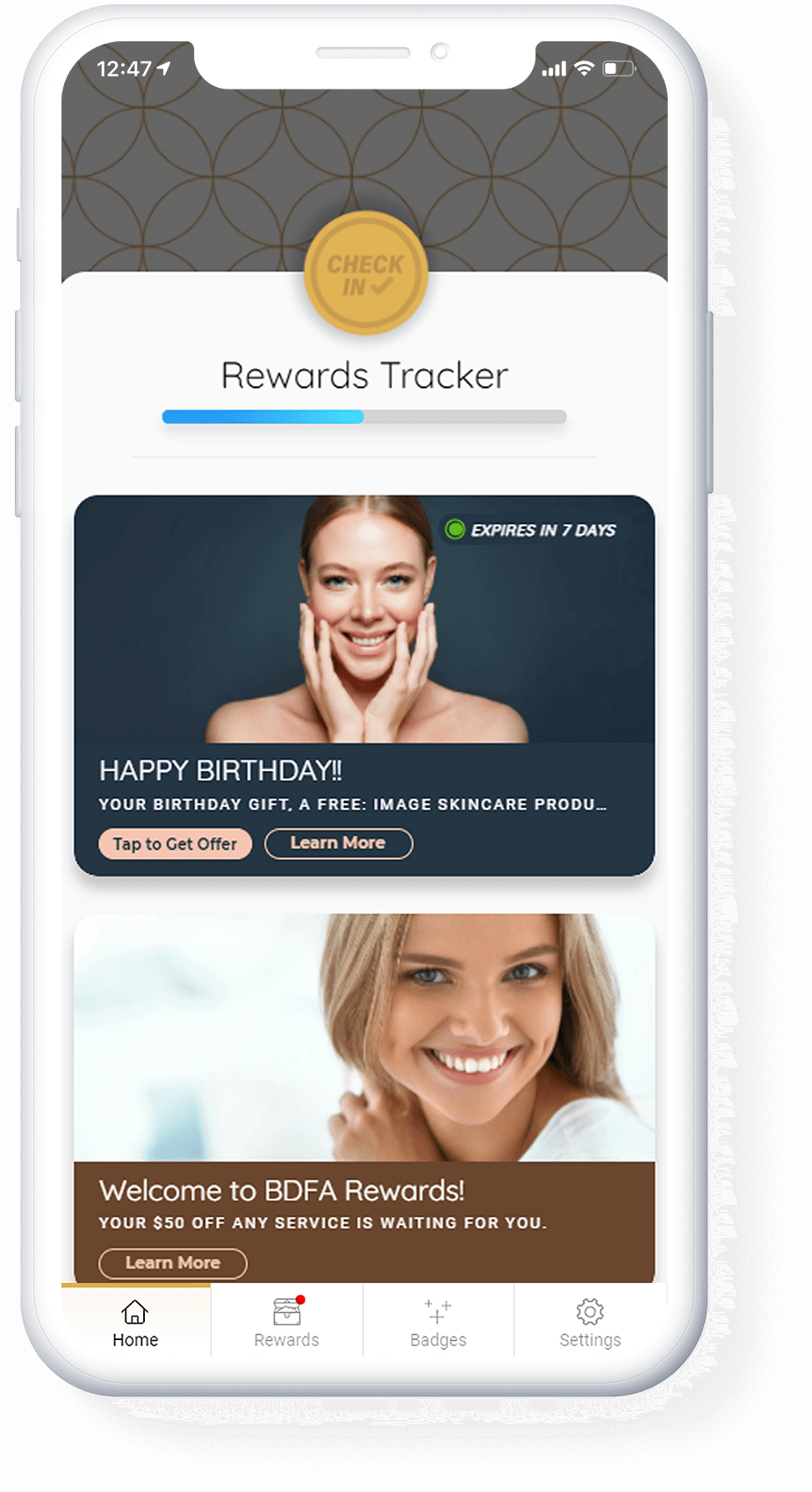 VIP Rewards Program in Miami
Join Our Membership Today
At Biscayne Dental & Facial Aesthetics, we want our patients to address their dental and facial skin concerns without the financial burdens that may come with it. Our office provides a convenient way for patients to experience expert treatments from our staff with special offers and reward club member perks.
During this time, we have been looking for ways to add value to our patients, and we want to show our appreciation for your support, as well as be rewarded for your loyalty.
For more information about our VIP Rewards Program, call us at (305) 224-1138 today to learn more.​
How Do I Sign Up?
Patients can earn points and special offers when they sign up and can do so without leaving our website! Just for signing up today, you'll receive $50 off any service. It's never been done before and the benefits of VIKARA Rewards are incredible.
If you are interested in signing up, you may click the link on a desktop or smartphone below and follow the steps:
What Types of Rewards are Included for VIP Membership?
This Platform is Free to Join. For every visit, you'll be one step closer to a new reward. There is no catch. We just wanted to add value back to our incredible patients and we understand the best kind of marketing is giving back. It's that simple!
Each VIP Member can receive the following rewards, including:
$50 Off Any Service for Joining
Special Discount #BdayOffer for your Birthday!
Rewards based on your visit- $100 Off the following:

PowerSculpUSA Treatment
Teeth-Whitening Treatment + ImageMD Skincare Kit
Monthly Offers for VIP Members Only
$200 Off Laser Therapy with Plasma
Invitations to our Exclusive Events
That's over $3,050+ YEARLY value savings and it's COMPLETELY FREE. Joining takes less than (1) minute.
Instant Rewards You Will Love
The VIP Rewards Program is a membership we offer to all our patients at Biscayne Dental & Facial Aesthetics, just for supporting our practice and continuing our trusted services. Without the loyalty of our patients, we would not be able to provide you with the beautiful results you desire. We are proud to offer this program to patients in Miami and we want to thank you.
After this, you will be well on your way to your first awesome reward. Be sure to ask us about our membership today, we will be happy to assist you with any additional questions you may have.
Feel great and look great with our team in Miami. Contact us online for more information or call us at (305) 224-1138 today.
​
Meet The Team
Biscayne Dental & Facial Aesthetics
Julio Hernandez, DMD

Founder, Dentist, Facial Aesthetic Expert

Celebrated as the grand architect behind some of South Florida's most brilliant smiles and beautiful faces, Dr. Julio E. ...

Rita Dargham, DMD

Dentist

Dr. Dargham, a native of Miami, Florida, completed her undergraduate studies at the University of Miami, and then proceeded ...

Lorena Corzo, D.D.S.

Periodontal Surgery & Implantology

Dr. Lorena Corzo has been helping people to put their best smile forward for the past 10 years. As an active dentist and ...

Oscar Reyes, D.D.S.

Dentist

Dr. Reyes has over 25 years' experience in the dental field. His formal education started in Cuba where he graduated from the ...

Cesar Hernandez, D.D.S.

Dentist

Dr. Cesar Hernandez comes from a long line of dentists. His grandfather, father, uncle, sister, and wife are all dentists. ...

Abeer Altarsha

Dental Hygienist

Abeer has been working in the dental industry for about 19 years. Born and raised in Damascus, Syria where she also attended ...
State of the Art Technology
Focused on Helping You Receive a Better Experience
We utilize low-radiation dental x-rays, oral cancer screenings, and a 3-D digital impression system. These systems allow us to provide you with a better diagnosis, and more insightful solutions all while keeping you comfortable. No expense is spared in making sure we provide you with the best possible level of dental care.
Professional & Charitable Affiliations
The American Dental Association

The International Association of Orthodontics

American Academy of Cosmetic Dentistry

International Congress of Oral Implantologists

Miami Beach Dental Society

Angels for Humanity

American Academy of Facial Aesthetics

Internal Academy of Facial Aesthetics
Established & Effective
Procedures to Help You Feel Better
Proven Track Record

More than 20 years of professional experience

Trusted & Effective

Highly decorated and esteemed professionals

Recognized By The Press

As a leading authority in cosmetic dentistry

Comprehensive Services

Comprehensive dental services are offered at our office